WELCOME TO MUNNO PARA PRIMARY SCHOOL OSHC
Opening mid-June subject to service approval.
Work commitments and school hours rarely align – that's where OSHC comes in!
YMCA OSHC provides a safe, fun, and stimulating place for children before / after school hours as well as Vacation Care during school holidays.
What to Expect at YMCA OSHC
As a community-based not-for-profit, the Y is recognised as a leading provider of OSHC services in South Australia, well known for:
We seek high quality, experienced and passionate Educators which actively contribute to the quality of OSHC programming and an enjoyable experience for students. Lead by the OSHC Director, Educators provide an environment that will challenge, stimulate and support each child on an individual level.
Bookings can be completed online, on the App or over the phone. In addition to utilising the latest technology to manage bookings, our friendly OSHC Support Team is available over the phone Monday through Friday, 9am-5pm.
YMCA OSHC has the right mix of physical activity, intellectual stimulation and rest keeping kids wanting to come back. We also pride ourselves in delivering the best Vacation Care program in South Australia.
We source our food from within the local community using markets and other local food co-ops if available within the area. Healthy and nutritious breakfasts, snack and afternoon tea are always available for students.
YMCA OSHC uses the best available childcare software solution called Xplor, making day-to-day OSHC management and bookings simple and convenient. Download the Xplor Home App from Google Play or the App Store!

Book an OSHC or Vacation Care Session
Using the Xplor Home App

Navigate to the 'Bookings' tab, select a day, start a new booking (top right), select the child and booking type, repeat the process for additional bookings, then checkout (click the pram in the top right corner).
*Only students enrolled into the service and an activated Xplor account can use the Xplor Home App for bookings. Email the OSHC Support Team if you need the Xplor activation email resent.
CLICK HERE for the step-by-step Parent Guide to Xplor.

OSHC Support Team
If you are unable to book via the App, contact the OSHC Support Team by Email or call us on 08 8200 2516.
How to register with Xplor
*New to YMCA OSHC? Follow the Service Enrolment instructions provided on this webpage.
Existing Families - what you need to do
Set up your account: All existing OSHC families received an email to set up your new Xplor Parent Home account. The email, which came direct from Xplor, included your registered email (login) and a link to create a password. If you need us to resend this email please send us an email or call us on 08 8200 2516.

In order to use the App you must follow the link in the above noted email.

Download the Xplor Home App: Available for iOS and Andriod, login using the account credentials created in step 1. This App replaces the My Family Lounge App, managing bookings, statement and payment records, and much more. The App is also the quickest and easiest way to sign children in and out of care.

If two guardians are listed on the account with emails, each received their own email to confirm their account. In this situation, both guardians can use the Xplor Home app (only one can be designated for financials).

Authorised Nominees: You can set up authorised nominees to sign in/out children through the Xplor Home App. Navigate to the Account tab, then Hub Guest. The guest will receive an email (check junk) and follow the prompts to create a password.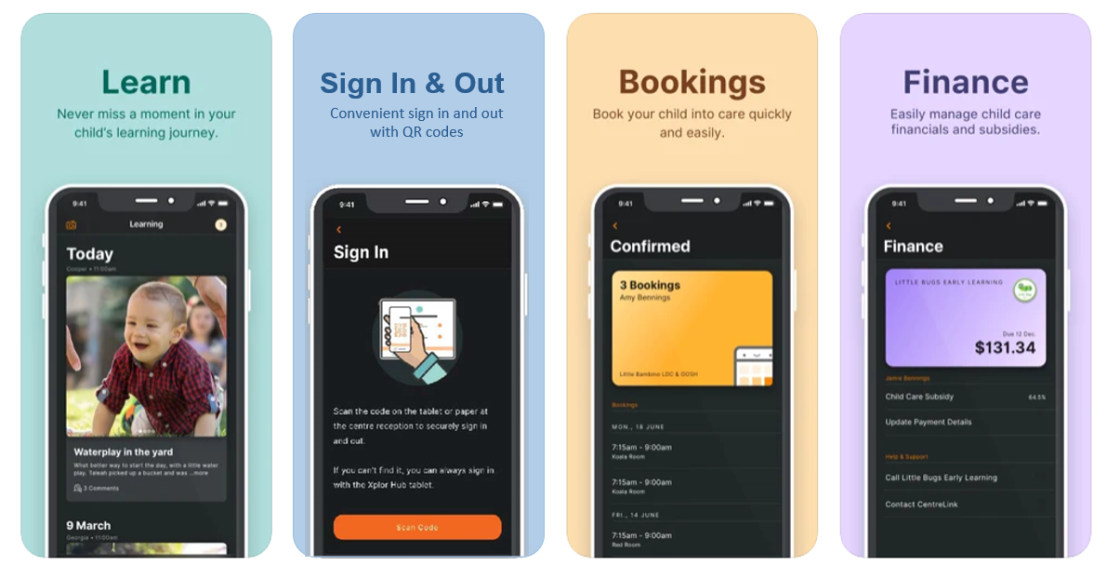 New to OSHC? Before making an OSHC or Vacation Care booking you need to enrol into the OSHC service. Get started in 3 easy steps!
Enrol in the service: Click the below 'Enrol Online' button and complete the enrolment form. Once the enrolment is approved (may take 1 business day to process), you will receive a welcome email prompting the next two steps.
Activate your Xplor Account & Download the Xplor Home App: Instructions can be found in the welcome email or by clicking here.
Book Your Sessions: Use the Xplor Home App to book your OSHC or vacation care sessions. By default bookings are casual, so if you wish to make a permanent booking be sure to add that to the booking 'Comment' box. Once a booking is confirmed you will receive an in-App notification. Detailed instructions for booking a sessions can be found here.
If you have any issues please contact the OSHC Support Team on 08 8200 2516.

YMCA South Australia in partnership with the School Council sets the daily fee on an annual basis. Once a child is enrolled, families and carers can contact Family Assistance with the service's provider number to determine their eligibility for the Child Care Subsidy. This is used to determine a families discounted fee, usually between 50-85%. As a guide 95% of OSHC families receive 50% or more subsidy off the standard rate.
Fee
After subsidy*

Before School Care

$16.00

$3.66 - $9.98

After School Care

$24.50

$4.91 - $13.39
Early finish
$24.50
$4.91 - $13.39

Vacation Care
(In House)

$60.00

$12.51 - $34.13

Vacation Care
(Incursion / Excursion)

$80.00

$14.44 - $39.38

Pupil Free Day

$60.00

$12.51 - $34.13
Casual Booking Fee
$3.00

Hat Fee (once off)

$12.00
*Typical fee after subsidy is applied
Direct Debit
All fees are paid via direct debit. A direct debit authorisation must be completed prior to using the service. Direct debit is paid via a bank account or credit card. Paying by credit card incurs a .79% surcharge.
Casual Surcharge
A $3 casual surcharge is applied for before/after school care bookings made within 48 hours of care being provided. The $3 casual surcharge is applied to Vacation Care bookings made within 2 weeks of the school holidays (start of the Vacation Care program).
Statements
With the switch to Xplor, statements will no longer be sent. You can access your statements and live balance information at any time on the Xplor Home App.

Before/After School Care:
Cancellations received up to 48 hours prior to care will have the session removed at no cost. Cancellations received with less than 48 hours' notice will be charged as normal.
Vacation Care:
Cancellations made greater than 2 weeks prior to the beginning of the session will have the session removed with no charge. Cancellations made within 2 weeks of the session date will be charged as normal.
*No fees will be charged if a medical certificate is provided to oshc@ymcasa.org.au no later than 5 business days from the date of missed service
The Xplor Home App
The quickest and easiest way to cancel a booking is through the Xplor Home App. If you need assistance using the app contact the OSHC Support Team by Email or call us on 08 8200 2516.