YMCA Gymnastics programs are built around the development of children's physical, cognitive and social capabilities so that they can live active, healthy and fulfilling lifestyles. Our adaptable approach to classes ensures a rewarding gymnastics pathway for a variety of ages and abilities, instilling important life skills such as confidence, coordination, creativity and discipline.

Our program is supported by a team of coaches who are passionate about gymnastics, ensuring every child learns and develops.

A semi-structured, parent guided play based session introducing children to fundamental movement skills. With a focus on fun, movement and participation, Kindergym is the perfect foundation program for children to lead an active and healthy life full of sport and recreation.
Ages: 1Y – 5Y
Prerequisite: None
Duration: 60 minute
Cost: $13.25/class ($26.50/fortnight direct debit) *Includes Gymnastics SA Registration Fees.
Parent participation: Yes

A structured gymnastics class specifically designed for pre-schoolers aged 4-5 years old. Participants develop strength, balance, flexibility, coordination and posture, while learning fundamental gymnastics skills in a mixed gender, small group setting.
Ages: 4Y – 5Y
Ratios: 1:10
Prerequisite: Not required, but a progression step from Kindergym
Duration: 60 minute
Cost: $17.50/per class ($35/fortnight direct debit) *Includes Gymnastics SA Registration Fees.
Parent participation: No


Drawing on influences from acrobatics, parkour and dance, Action Gym introduces participants to traditional gymnastics equipment in new ways. Games, obstacles and challenges build upon fundamental movement skills, combing elements of effort, space and time when performing movement sequences and challenges with and without equipment. This class is perfect for the budding gymnast or ninja warrior.

Ages: Beginner, 5+ | Intermediate, 9+ years
Ratios: 1:10
Prerequisite: Not required, but a progression step from Kindergym
Duration: 60 minutes
Cost: $17.50/session ($35/fortnight direct debit) *Includes Gymnastics SA Registration Fees.


TeamGym combines 3 different elements of gymnastics - tumbling, mini tramp and acrobatics floor routines, to create an exciting team competition event. Join the team and you can learn to flip, roll, jump and dance with your Team mates.
Ages: Beginner, 5+
Ratios: 1:10
Prerequisite: Not required
Duration: 60 minutes
Cost: $17.50 ** inclusive of Gym SA Registration Fee **

Team Gym Fun is a one hour sessions that is just for fun. No specific skills or experience required. We will run Team Gym Fun as per our usual recreational sessions but with a Team Gym focus.
This would be a start point for all new gymnasts to the club who want to start Team Gym or for current members who require additional work on their fundamental skills.
Select skills will be assessed throughout this program and participants may be invited to join the competitive team.


Team Gym Competition Program
** BY INVITE ONLY **

Team Gym Competitive a 2hour session by invitation only. Gymnasts are selected from our existing team, from our GFA sessions or from the Team Gym for Fun sessions if they show the skills and behaviour necessary.
Participants will be placed in either a novice or intermediate team based on skill level.
Duration: 120 minutes (2 hours)
Cost: $19.50 **inclusive of Gym SA Registration Fee **

The 2 hour TeamGym session covers:
First hour: floor work and choreography
Second hour: tumbling / Strength & Conditioning
Competition gymnasts require the following qualities:
Physical ability
Mental / Emotional readiness
Positive and motivated attitude towards new skills and challenging activities
Focus and strong listening skills
Financial / Time Commitment to program
Designed for participants with varying abilities, Stages 1 - 5 introduce students to fundamental gymnastic skills in an environment that is safe, fun and focused on participation. Students develop skills of body control, coordination and self-confidence – a great foundation for competitive gymnastics and an ongoing active lifestyle. Students will be introduced to gymnastic apparatus including the floor, vault, beam, bars, rings and trampoline.

Stages 1 - 5 are progressive and sequential, with students typically spending about 6 months in a Stage before progressing. It is important to carefully review the Stages before enrolling your child to ensure the best fit. Your child may be moved up or down a Stage on the recommendation of coaching staff.
If your child is new to gymnastics and aged 5Y-8Y then enrol them into Stage 1, if they are new to gymnastics and 9Y+ then enrol them into Stage 2. If they have experience, but you're not sure where to enrol them between Stages 3-5, please email or call the centre. But don't stress too much, moving stages/classes is easy if required.
The below image displays all current classes. For live class vacancy, click here.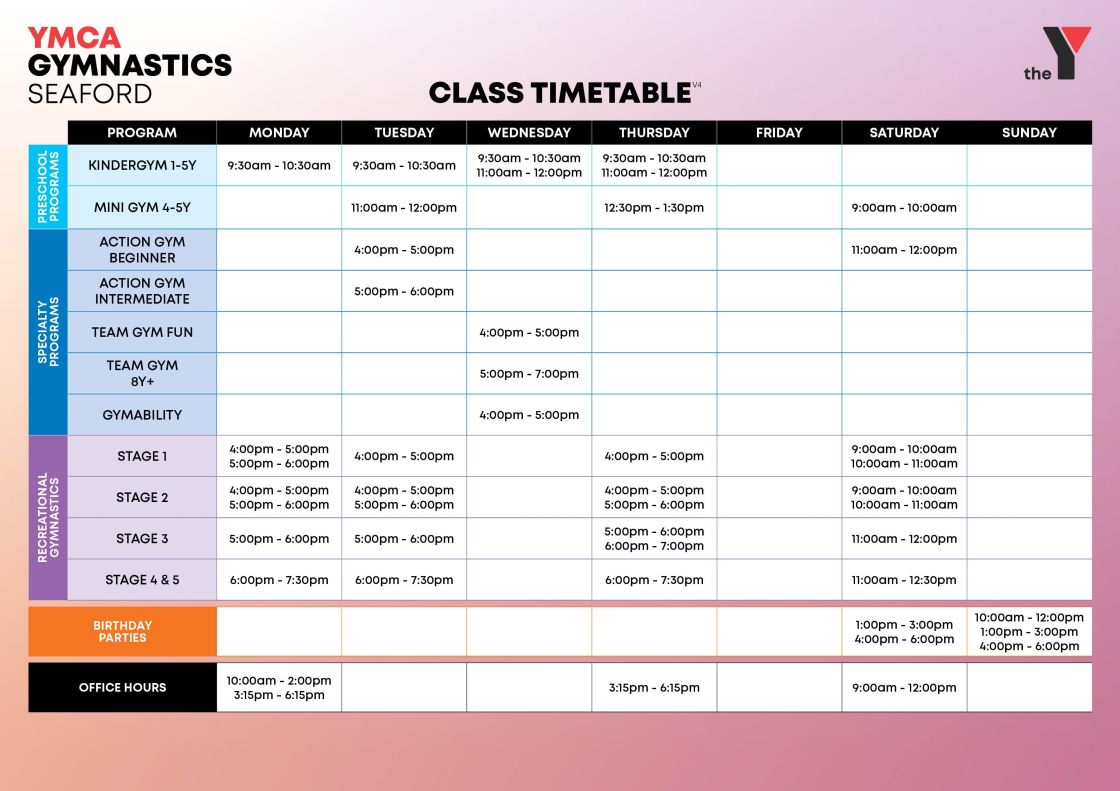 Enrolling a child for the first time can be a bit tricky, so we encourage you to expand the below instructions before clicking the 'Start Enrolment' button.
Get Started Now
Find a suitable class (class descriptions above)

Check availability (live availability links are included under each class description)
Enrol online (expand the 'how to' below for step by step instructions - remember to create the parent account first then add your child)
Enrolling a child for the first time can be a bit tricky, so we encourage you to review the below steps before clicking the 'Start Enrolment' button.
Find your class (use the information and links to the live timetable showing vacancies on this page). When ready, click the 'Start Enrolment' (new window opens) and click "Enroll Now".
You'll be prompted to create a parent/guardian account (this will become the 'Family Account' in which the child's accounts sits under).
Once completed you will be taken to the Customer Portal. Click the 'Add child to family account' button to add the child's you are looking to enroll (repeat as required). When creating the children account, simply skip the email field, and enter a six digit password (you wont need to remember your child's password as going forward you only log into the parent account).
Once the children accounts are created, from within the Customer Portal click the Enrol menu icon (top of screen on desktops, bottom left on mobile). You must then select the "Gymnastics Programs" sub-heading to see all available programs/classes.
Find the Class and day/time and click the 'Enroll Now' button on the right. Then select which child you wish to enroll.
The next screen confirms the per class cost and associated additional fees (ie. gymnastic SA registration fees). Simply click next.
The summary screen shows you a summary of your enrolment. Please ignore the Payment Interval row (payments are fortnightly, not weekly as this indicates). Review the linked T&C's and check the box for agreement, then click next.
Follow the prompts to enter either bank account or credit card details.
A confirmation screen appears with a summary of enrolment. A copy of the agreement form and terms will also be provided in an enrolment confirmation email.
Can't find a suitable class with vacancy? Join the waitlist and/or submit your class request.
Waitlist/Class Request Form
Birthday Party Details & Pricing
Self-Catered Parties ($220 for 12 children) includes:
1 qualified party hosts (including 90 minutes of supervised activity)
Designated table area, including a gifts table
Full use of the gymnastics hall and range of gymnastics equipment – uneven bars, high bar, 3 beams, vault, various soft shapes, mini tramp, long tumbling track and foam pit.
Full use of our kitchen facilities, including microwave, kettle, fridge/freezer and pie warmer.
Viewing area for parents/guardians to watch the fun
Party invitations available on request
Optional extras include:
Participation for up to 20 children. A small fee of $10 per head will be applied per head if more than 12.
Availability
Saturdays: 1pm - 3pm or 4pm - 6pm
Sundays: 10am -12pm, 1pm - 3pm, or 4pm - 6pm
Children can enjoy a fun and exciting birthday with our specialised Kindergym equipment. The semi-structured, parent guided party will take kids through activities where they climb, crawl, roll, bounce, rock and swing. We also include singing, dancing and free-play.
Split over 3 x 15 minute circuits using all of the equipment, party guests can roll, swing, climb, jump and balance their way through the party. With organised group games and free-play, it'll be non-stop!
We can tailor our gymnastics party to your theme, including music, dancing, games and ninja warrior circuits. Please mention your theme when booking to ensure we can accommodate.
$100 FREE YMCA Gymnastic credit is available with the SA government Sport Vouchers initiative!
To use your Sport Voucher your child must have an active gymnastic enrolment. Simply enrol your child, then complete the form (available soon). The $100 credit will be placed on your family account within 10-15 business days, and will be automatically used to pay for direct debit payments. All students, reception to Year 7 are entitled to a $100 per calendar year. Further details about the initiative can be found on the Sport Vouchers Website.
How can I contact YMCA Gymnastics - Seaford? What are the office hours?
The best way to connect with us is by email: seaford@ymcasa.org.au.
Alternatively, call 0459 988 209. Please leave a message and we will return your call.
Office hours
| | |
| --- | --- |
| Monday | 10am - 2pm / 3:15pm - 6:15pm |
| Thursday | 3:15pm - 6:15pm |
| Saturday | 9am - 12pm |
How do I enrol my child into YMCA Gymnastics?
All enrollments are completed online by the parent. Step one is to find the class you are interested with the class information provided on this page, then find the 'Enrol Online' section on this webpage and follow the prompts. Upfront (pro rata) fees are charged in the enrollment process, and ongoing direct debit payment information is collected.
How are fees paid? What is direct debit?
YMCA Gymnastics fees are paid fortnightly (every second Thursday) by direct debit. Direct debit means the fees are automatically withdrawn from your designated bank account or credit card. When enrolling online upfront fees will be paid at the time of enrollment and ongoing direct debit payment information collected. Enrollments are ongoing (not term based), so the enrolment will remain active (and fees charged fortnightly) until written cancellation is received.
What is the Customer Portal (update payment details, review payment history, check upcoming classes)
The Customer Portal is where you can manage your account and enrollment online. If you have an active enrolment, then log into the Customer Portal as an existing member using the email and password you set when completing your initial enrolment. From within the Customer Portal you can:
Update contact information (a valid, regularly checked email is very important)
Update emergency contact information
Add additional children (and enrol them into classes)
Review payment history and review/pay outstanding balances
Review upcoming bookings
How do I cancel my child's enrollment?
Aligned to the terms and conditions of YMCA Gymnastics, 2 weeks written notice of cancellation is required to end an enrollment. To clarify, this means once notice of cancellation is provided, one more direct debit will be charged. You will have access to all classes charged - so at the date of cancellation, you may still have 3 to 4 lessons upcoming before enrolment finishes.
To provide notice of cancellation please send an email to seaford@ymcasa.org.au noting the students full name, and current class day/time.
How do I transfer classes?
Most transfers will be prompted by the teachers based on skill progression. However, if your schedule changes and you wish to change times/day, please email seaford@ymcasa.org.au and detail your change request. Ideally, please look at the current class availability within the Customer Portal to assess what other options are available.
Suspensions vs Class Absences vs Medical Suspensions
Suspensions
Aligned to YMCA Gymnastics terms and conditions, all students are entitled to up to 4 weeks of suspension per calendar year at no cost. All suspension request must be submitted via the online Suspension Request Form. If the below conditions are met you will not be charged for classes during a suspension period.
The student has not taken more than 4 weeks suspension in the current calendar year.
The suspension request is submitted two weeks in advance (suspensions are designed to accommodate holiday absences and are not intended for sick days). Medical suspensions detailed below.
The family account has no outstanding balance.
Class Absences / Illness
We understand life happens and you'll miss the odd week due to illness of other engagements. Like other sporting fees, there is no refund for the odd missed class.
Medical Suspension
Medical suspensions are available for students who are unable to attend 2 or more consecutive lessons (e.g. most relevant for injuries lasting several weeks). Medical suspensions must be arranged prior to the missed lesson in writing (by email) and be accompanied by a supporting medical certificate. We will hold your spot for up to 6 weeks. Suspensions over 6 weeks will be removed from their class and re-enrolled upon return.
What if my child is sick?
We understand life happens and you'll miss the odd week due to illness of other engagements. Like other sporting fees, there is no refund for the odd missed class.

Are there classes over school holidays?
Yes. The YMCA Gymnastics program is ongoing (not term based) and runs 48 weeks a year. The only break is for 4 weeks (last two weeks in December and the first two weeks in January). The last class in December is on Saturday, 12 December.
Are there classes on public holidays? What about over the Christmas break?
There are no classes on public holidays and you will not be charged for classes which fall on public holidays. The gymnastics program runs 48 weeks a year and is closed for 4 weeks (last two weeks in December and the first two weeks in January). The last class in December is on Saturday, 12 December.
Do I need to re-enrol in 2021?
No. Your enrolment is an ongoing membership and will continue until you request it is cancelled. Your enrolment will automatically carry over year to year. As noted above, there is a 4 week break in the last 2 weeks of December and first two weeks of January.
Why do I have an outstanding balance?
If your direct debit payment has rejected you will be notified by email. Rejections may happen for a number of reasons ranging from insufficient funds to incorrect payment details. Please log into the Customer Portal to pay off outstanding balances, review payment history, and update payment details (ie. update credit card information).
Can I take photos/videos?
The YMCA welcomes capturing your child's magic moments, however, privacy of others must be respected. The use of cameras and video cameras is conditional on having consent from all relevant individuals, including agreement on where and how the photos will be used.